Fasting for Charity

&

Good Deed Every Day
Self-Redemption for Humanity
"F & D" – European contributions for the earthquake disaster in Ya-an, China.
#Earthquake Express# The official measurement from the China Earthquake Network: 08:02, Beijing time, on April 20, an earthquake of 7.0 on the Richter scale occurred in Lushan Suburb, Ya'an city, Sichuan province (at latitude 30.3 degrees north and longitude 103.0 degrees east), The quake occurred at a depth of 13 kilometers below the surface. (Forwarded from 12841 Wangyi Microblogging)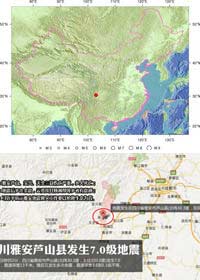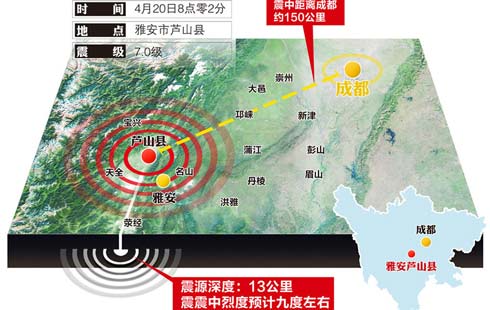 Earthquake Disaster Damage (The information came from Microblogging):
【At 17:50, on 21st, Ministry of Civil Affairs: The numbers of dead and missing in the earthquake rose to 208】the news came from the Ministry of Civil Affairs, according to the Sichuan Provincial Department of Civil Affairs statistics at 17:00 on the 21st April, 208 are reported dead and missing after the force 7.0 earthquake in Lushan of Sichuan Province. 184 dead and 24 missing, and in addition 11826 people injured.
12841 22:08 20.04.2013 According to the report of CCTV, the Sichuan Ya'an earthquake has caused 156 deaths and more than 1 500 thousand people have been affected by the disaster.
European contributions for the earthquake disaster in Ya-an organizated by HZDCOE
Through the global activities "F & D" initiated by Mr. Wu Ze Heng, a few Norwegian and several Chinese people who live in Europe showed their sympathy to the people affected by the earthquake, although the Chinese Foreign Ministry issued a statement rejecting international aid for Ya-an. The people affected in the earthquake disaster really need help !
In April, "F & D" in Europe charitable activity donated money for the Earthquake disaster in Ya-an of China.
Some of "F & D" group members donated the money saved from fasting, and some donated money as their "Good Deed Every day" !
The donation information is as follows:
Name
Amount
Shang Jingsheng
1000.00kr
Aida Johansen
1500.00kr
Toril Hansen
200.00kr
*** ****
300.00kr
Elin Bang
200.00kr
Trine Skjalgsdatter
400.00kr
Zhiyin Liu
400.00kr
Sissel Vevik
200.00kr
Wang Lu
600.00kr
Total Amount: 4800.00kr
In April
*** *** ***
200.00kr
Total Amount: 200.00kr
In May
Aud-Kirsti Pedersen
200.00kr
Total Amount: 200.00kr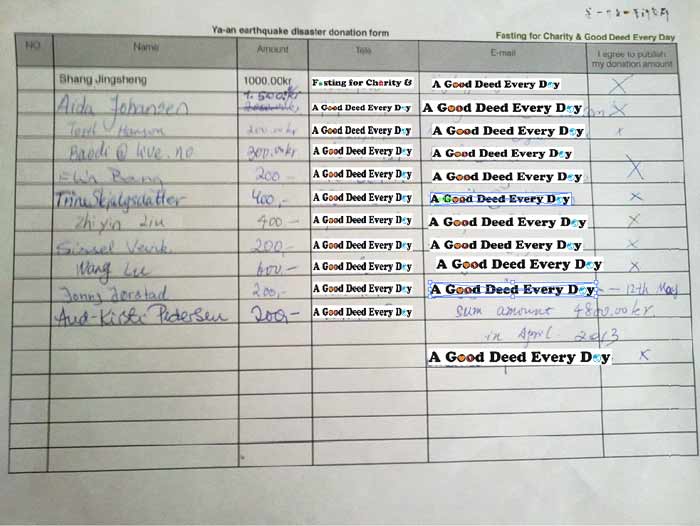 The donation money(before April) was taken to China by Bjørg Lein Størmer(who works at SAS) and Jan Størmer. On 7th May, Jan Størmer remitted the money to the Account of the "F & D" group in China.
The remittance feedback information from Jan Størmer:
Norsk 4800 som på dagens kurs 101,85 ble vekslet til RMB 4888,8 ble i dag (jeg overførte RMB 4900)
Kostnad for giro på 24,50 er mitt bidrag.
Da håper jeg dere får en rask bekreftelse fra mottaker om at pengene er mottatt
Received remittance information from Sulan, the leader of China "F&D" group:

The donation money(after April) is remitted from the account of HZDCOE in China.